Welcome to LEATHERWOOD TRADING COMPANY
The Olde Tyme Courtsquare Opry
Comics, Cards and Collectibles

Leatherwoods Bluegrass is BACK ON THE AIR!!!
CHECK OUT BLUEGRASS INTERNET RADIO with WGWG

CLICK ON THE MIC PICTURE ABOVE
TIMES: * 7-9 PM MONDAY NIGHT BLUEGRASS Pickin on the Porch

* 11AM SUNDAY MORNING Olde Tyme GOSPEL Radio Hour


MANY FOLKS ASKED ABOUT PAST PERFORMANCES AT THE OPRY!
WELL....Here they are in our CLASSIC LiveAtLeatherwoods PODCAST Re-broadcasts of OPRY Bands 1995-2007
CLICK PICTURE BELOW and PICK A BAND! LISTEN IN!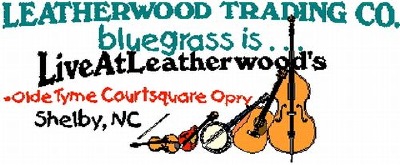 Here's just a little "history lesson" for you about the OPRY as it was in uptown Shelby for a good many years.

HISTORY OF LEATHERWOOD TRADING COMPANY, The "OPRY" and
Comics, Cards and Collectibles


Leatherwood Trading Co./Comics, Cards and Collectibles is a family owned business and has been selling antiques, auto/truck parts, collectibles, LP and 45 rpm records, books, comics and related items such as CDs, musical instruments and supplies since 1970.

For over 20 years we maintained a retail storefront in uptown Shelby selling comics, cards, antiques, music, and all sorts of collectible 'stuff'. We also provided a performing stage for bluegrass and other musicians and over the years hosted over 600 live shows. What a good time it was and we enjoyed meeting the musicians and the fans who followed them around. It was indeed a good time in our lives. Several "Live At Leatherwoods" CDs came out of the performances and some are offered still for sale. In addition, Steve and Jeremy co-hosted 5 hours of musical programming at WGWG, 88.3 FM in shows entitled, "LiveAtLeatherwoods", "Pickin' on the Porch" and "Different Shade of Blue" for over a dozen of those years. A fun time for sure !

LEATHERWOODS has often received comments and requests regarding the Olde Tyme Courtsquare Opry we once operated inside our store on West Warren St. in Uptown Shelby. Currently, that space is occupied by The DRAGONFLY and we encourage you to go by and visit Jamie and his staff.

In response to the requests we and Jamie have received over the years asking to see what it 'was like' or to have a 'trip down memory lane' with the COMIC SHOP, GAME ROOM and OPRY, we have put together some pictures and other bits of information that may interest some of you and answer some of the questions and requests we have received.

We have also made an attempt to list all of the bands and musicians performing at the OPRY and will continue to add to that list. Over the 12 years of operation, and more and 600 shows, the OPRY hosted many bands and individuals. Hopefully, we will be able to recall everyone but if you happen to notice we have omitted someone who needs to be included, please contact us using the "contact us" button on the column to the left.

To experience some of the events and happenings of those years, please click on the buttons to the left and see if you recall some of these times. If you were unable to experience the OPRY in person, here is a chance to see what was happening and taste a bit of the fun we had.
ENJOY YOUR VISIT!

Steve Leatherwood Dan X. Padgett and Charlie Seachrist Pickin at the Cabin