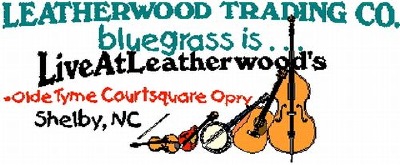 Leatherwood Trading Co./Comics, Cards and Collectibles is a family owned business and has been selling antiques, auto/truck parts, collectibles, LP and 45 rpm records, books, comics and related items such as CDs, musical instruments and supplies since 1970.

For over 20 years we maintained a retail storefront in uptown Shelby selling comics, cards, antiques, music, and all sorts of collectible 'stuff'. We also provided a performing stage for bluegrass and other musicians and over the years hosted over 600 live shows. What a good time it was and we enjoyed meeting the musicians and the fans who followed them around. It was indeed a good time in our lives. Several "Live At Leatherwoods" CDs came out of the performances and some are offered still for sale. In addition, Steve and Jeremy co-hosted 5 hours of musical programming at WGWG, 88.3 FM in shows entitled, "LiveAtLeatherwoods", "Pickin' on the Porch" and "Different Shade of Blue" for over a dozen of those years. A fun time for sure !

Recently, we decided to retire from some of the work and closed our retail store/coffeehouse but still have in stock a large number of items for sale. The listings you will see here are from of our store stock (if new or used) which has been maintained in a climate controlled environment since it was new and/or received by our company. We describe any flaws or damages (in some cases due to the age of some items and normal use) so please read the description and check the photos.

Thanks for checking our listings and please email us if you have any questions. Please note we have several pages listing groups of items for sale and be sure to check all our listing for great comics, antiques, collectibles, music and MORE. Thanks for visiting Leatherwoods.